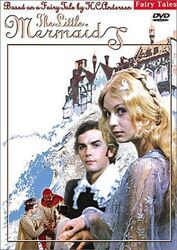 Rusalochka, also known as The Little Mermaid, is a Soviet (Russian) fantasy film produced on 1976 and directed by Vladimir Bychkov based on the story by Hans Christian Andersen. 
Plot
[
]
This is a tale of tragic love dating in the 13th century, about a mermaid that falls in love with a Prince that she saves after she and her sisters sank the ship that he boarded. The next morning the Prince is found by the Princess of the kingdom that claims to be his savior thus creating a conflict of "triangle of love" as the Prince tries to seek, conform and finally settle down with this Princess and having dream-like memories towards the mermaid. Rusalochka cannot bear to be away from her love and with the help of her human bard friend Sulpitius and of the Witch she will try to get closer to him and gain his love without realizing all the personal sacrifices she would have to undergo.
Characters
[
]
Rusalochka/Little Mermaid: Is a young mermaid with long pastel blue-green hair. As a token for the exchange and transformation her hair changes to be a soft curly blonde like the sun hair. Her voice has a bel as of someone that sings and her stare has a certain power as well. When meeting the Princess for a second time in the Ball, she shows an extraordinary talent for dancing. She wears a beatiful and delicated soft hologram dress decorated with flowers; she walks barefoot.
Sulpitius: An adult man that appears to be a bard befriends Rusalochka and helps her to get closer to her love, the Prince; even though it appears that he himself has feelings towards her- being in the end the ultimate hero.
Witch: The witch is also the Innkeeper of the town. It is seen that on her house she has lots of wigs of different colors. She is able to create powerful spells and even though she asks for high tokens of exchange she is not frivolous and could be said that she also tries to help Rusalochka fulfill her goal.
Prince: His full name is Antoine de Lalan Poitou Lefvre Saint-Gotharde (Normandy). Apparently, in the past he had already refused three brides. One of the reasons of receiving help from the Princess is that she knew that he was to receive an inherit from his aunt Marianne the Savage. Believing he was saved by the Princess this drives him to fall wrongly in love with her.
Princess: A beautiful and cunning woman she knows how to manipulate every situation to get what she desires. She has a strong will and is not scared of the way her people behaved in her times, meaning she did not faltered in arranging a medieval combat between the Prince for whom she then developed feelings and a powerful wealthy man that presented to her his many castles and wealth. She dresses in extravagant and unique dresses matching the ever-changing hologram colors. The Princess tries to appear as a strong, just and christian woman, but yet fails in every aspect until she realizes she also loves the Prince.
Transformation
[
]
In order to help the mermaid, Sulpitius goes to find the Witch in her Inn and after reassuring the Witch that he is not with the Inquisition she agrees to help him by meeting with Sulpitius and Rusalochka at night. After seeing the beautiful hair of the mermaid she agrees to accept that as a token in exchange for transforming her tail into two legs and giving her a heart. She also wanted Rusalochka's voice but Sulpitius said she needed that in order to be able to talk to her Prince. The Witch warns the mermaid of the hurtful process, that by transforming her tail into two legs will feel like walking on sharp edges of swords, and even worse will be the heart because if she gets heartbroken she will die.  
Pictures
[
]
Notes
[
]
Please note that I do not own any of the media. Each corresponds to its respective owner.